If your perfect match was right in front of you, would you even know? That is the premise of the MTV reality dating show, "Are You The One?" It"s an interesting concept for couples looking to find "the one." After having contestants complete multiple rounds of compatibility tests, speaking with the stars" past partners and family members, and consulting with matchmakers, "Are You The One?" claims it can find contestants their true love.
You are watching: Brittany are you the one
Since 2014, the show has created lasting couples like Ethan Diamond and Amber Lee from Season 1, per E! News. The show has also created many short-lived romances that spawned messy breakups on and off television. For example, in Season 1, Brittany Baldassari and Adam Kuhn had a whirlwind romance and seemed to be each other"s perfect match — but ultimately weren"t. As the season went on, it became clear why the two were not a pair, as they couldn"t see eye to eye. In one clip from the show, Adam claimed Brittany is too clingy, while Brittany claimed Adam is "egotistical."
Obviously, the two were not a match made in heaven, so what happened to Brittany and Adam after their time in front of the cameras? Keep reading to find out.
See more: Watch Naked And Afraid Xl Season 2, Naked And Afraid Xl Season 2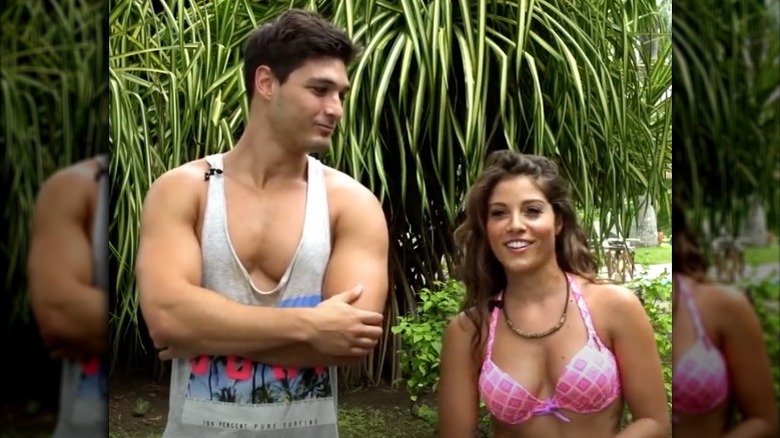 MTV/YouTube
By the end of the first season of "Are You The One?" Brittany Baldassari and Adam Kuhn found out their perfect matches were not each other. Rather, per In Touch Weekly, Joey Dillon was Brittany"s perfect match and Shanley McIntee was Adam"s. Brittany and Adam may have found out that they were not meant to be, but that didn"t stop them from starring together in another reality dating show. In 2015, the pair went on "The Challenge: Battle of the Exes II" to compete. 
In an interview clip, Adam explained they had an initial attraction to one another on "Are You the One?," but their personalities were not a match in the long run. "I started kinda acting maybe a little bit like an a**hole," he said. "Things kinda did go south very quickly." Brittany quickly shot back that their relationship didn"t just fizzle out, but that Adam was just looking for someone to hook up with in the house. "I believe Adam and I broke up because at the beginning I was a little too clingy, especially when I started to get emotionally involved with him, and he turned into a complete a**hole," she said.
See more: Restaurants In 212 N. Sixth St., Springfield, Il 62701, Abraham Lincoln Presidential Library & Museum
Despite their rocky relationship, the two were able to work together and remain on "The Challenge" until the seventh episode in the season before being sent home, per In Touch Weekly. Since then, they have moved onto live completely separate lives. 
MTV/YouTube
Now that reality dating games are super common — "Love Island," "The Bachelor," "Too Hot to Handle," and so on, — it can be difficult to keep up with all the past and current cast members. However, social media has given us insight into where these reality stars end up after their time on television. 
After "Are You The One?" and "The Challenge," Brittany Baldassari and Adam Kuhn happily went their separate ways. Brittany is currently dating MLB player Ryan Dull. She announced their relationship in May 2020, saying, "I know a lot of yall have been noticing me rooting for a baseball team other than the Red Sox the last few months. Well, it"s because of this special man."
As for Adam, his time on reality television was not over after "Are You the One?" or "The Challenge." In fact, in 2017, he and his supposed perfect match Shanley McIntee went on "Are You the One: Second Chances." The spin-off show put perfect matches to the test and in the finale, Adam and Shanely won third place, per Hollywood News Daily. A look at Shanley"s Instagram account shows that they are no longer together. Adam has been living more privately since the spin-off and has a private Instagram account as of this writing.